grass roots - real ingredients
Zingabrew was born out of a love for ginger beer and a need to rise to a challenge. One day while enjoying some mules with friends, we actually read the ingredients of two of the most popular canned ginger beers. To our dismay, we found they contained little more than high fructose corn syrup and added flavoring. That prompted me to read the ingredients of the more expensive bottled options, still full with acids and gums. So a friend challenged me to make my own.
I eagerly got to work, making small batches in my kitchen and trying them out on friends and family until we agreed that there was one that was juuuuuust right. Shortly after, we happened to be on a brewery tour and came across Church Street Brewing Company. We serendipitously met their brewmaster and owner and formed a relationship that turned into a partnership. When I realized my passion for making ginger beer in big pots in my kitchen could turn to big batches in tanks I thought, let's go for it! And thus Zingabrew was born. The name is a spin off of the scientific name for ginger root (zingiber officinale) and also inspired by the vivid spice or "zing" in our product.
We take a lot of pride in creating a company with the support of our family and friends, as well as Arlington Heights, the community we love. We enjoy seeing people truly appreciate our product, it's all-natural ingredients, and complexity of the flavor. Zingabrew employs local students where possible and participates in several philanthropy events in the Chicagoland area.
Zingabrew is much more than a list of ingredients proudly displayed on the bottle. It is an understanding and appreciation of what a ginger beer is and can be when mixed with your favorite libation. Its complexity changes the entire experience on the palate.
Zingabrew is based in Arlington Heights and while we started at Church Street Brewing in Itasca, now manufacturing and canning is done at Buffalo Creek Brewing in Long Grove.
We refused to settle for a ginger beer that isn't real, isn't natural. We hope you won't either!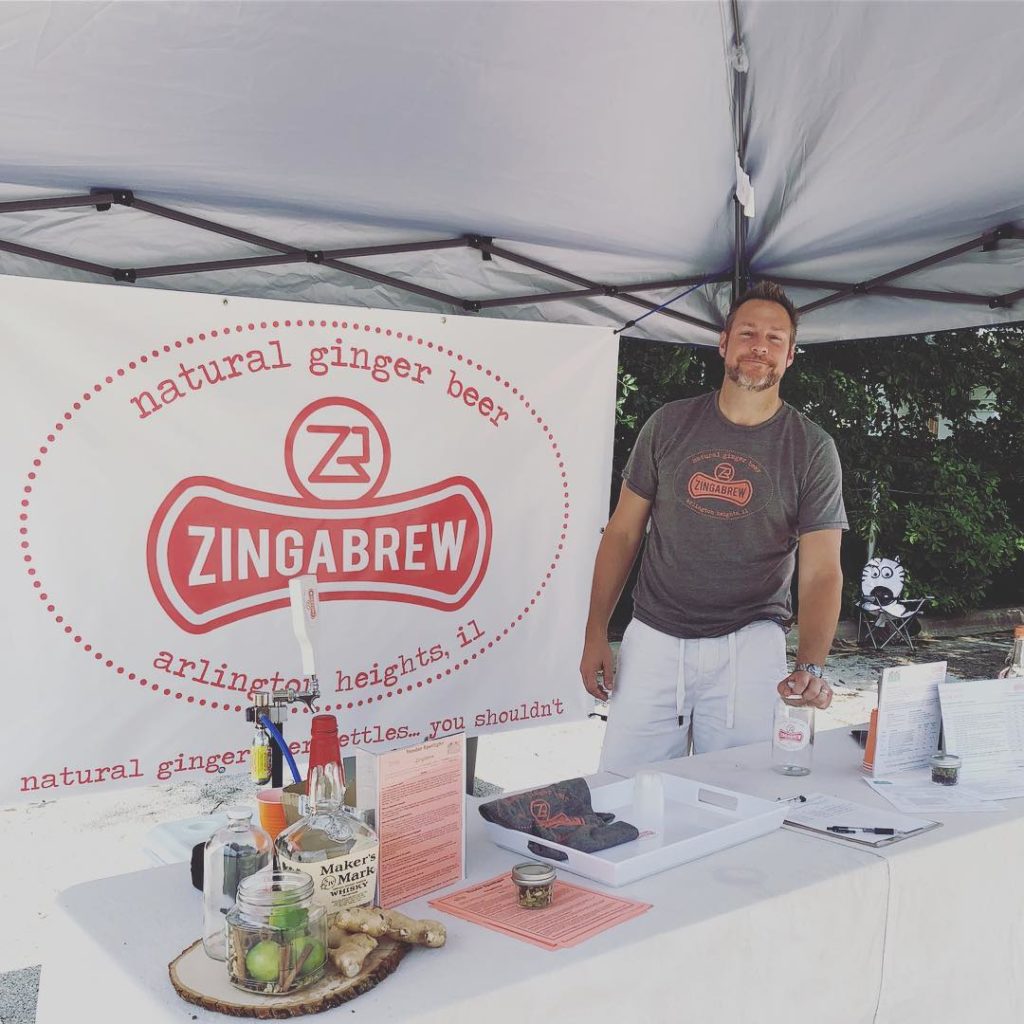 Zingabrew's mission is to fill an industry gap of affordable all-natural ginger-based carbonated beverages while promoting a family-oriented and locally-managed brand.  All products are produced without any preservatives or manufactured ingredients.   Zingabrew offers a unique and superior experience for those passionate about flavor and care about what they drink.
CONTAINS reverse osmosis carbonated water

DOES NOT CONTAIN hard/soft carbonated tap water

CONTAINS organic cane sugar

DOES NOT CONTAIN high-fructose corn syrup or glucose syrup

CONTAINS zingiber officinale (fresh ginger root)

DOES NOT CONTAIN 'natural flavors', 'spices', or artificial flavors/colors

DOES NOT CONTAIN citric or ascorbic acid, sodium benzoate

CONTAINS whole spices, whole fruit, or fruit juice

DOES NOT CONTAIN ester/acacia gum, concentrates, yeast, or salt